The Comfort Theatre Company is Kaija and Brian Bonde's new and exciting theater and musical concept. From acting to directing to teaching to producing to marketing, we have been involved in successful theater ventures for over 20 years. The Comfort Theatre Company is committed to bringing quality live performance to every corner of the region.
The Comfort Theatre Company offers a "menu" of musical events and several productions are always available. This is the group that brought you "Always… Patsy Cline," the immensely popular biographical musical play that ran for nine years. Now, by popular demand, a concert of Patsy Cline songs featuring Kaija Bonde and the Poker Alice Band is available on a limited basis.
The Comfort Theatre Company grew out of the idea that we could produce high quality musical theater experiences almost anywhere. In short, we make musical theater more accessible to the citizens of rural areas, while never compromising artistic quality. That is our goal.
---
The Shows:

The Americana combo, "East of Westreville," features Kaija Bonde (vocals), Boyd Bristow (rhythm guitar and vocals), Brian Bonde (lead guitar and vocals), and Al Slaathaug (upright bass). It intertwines good "old-timey" music like bluegrass, blues, gospel, folk, and country music interspersed with homespun humor. They just completed their first CD, entitled "Waitin…" and were recently featured performers in an episode of South Dakota Public Television's "No Cover, No Minimum."
This talented group featuring Kaija Bonde (Always…Patsy Cline), Boyd Bristow (Acoustic Christmas), Brian Bonde (The Cardigans), with Al Slaathaug on string bass, intertwines good "old-timey" music with homespun humor, and an occasional special guest including Kenny Putnam and others.
---
"Of Thee I Swing" is an original musical review that recreates a late night cabaret show at a New York Broadway hotel during its heyday in the thirties and forties. It showcases unique arrangements of popular songs of World War I, The Depression Era, and World War II.
To see some video from the show, click here.
The show features Kaija Bonde with able hands of Gene McGowan on piano. Gene was the brilliant leader of the United States Navy Band choral group, the
Sea Chanters for several years. He is well known in the area for his piano virtuosity. The full Gene McGowan Jazz Trio, adding bass and percussion, can also support the show. We are considering recording a soundtrack and doing a larger ensemble version as well.
---
Our latest project is "New Orleans Nights" featuring the traditional jazz & blues you may have heard on Bourbon Street decades ago. The show features Kaija and the new First Thursday Dixieland Band.
This show is now touring on a limited basis.
---
What happened to Patsy?
People ask ua about
"Always... Patsy Cline" all the
time.

We closed the original show in 2007 after nine successful seasons. As Patsy herself sang, "I'm back again…back where I belong."
This musical is based on the true story of one woman's introduction to Patsy Cline's music and subsequent introduction to Patsy herself. Louise, Patsy Cline's number one fan, is ecstatic when she meets her idol before a concert in Houston. Between Cline's music and Louise's narrative, a remarkable evening unfolds.
History of the show
In 1998, when we started as a little summer show at the tiny, crumbling Barn Theatre in Tea, SD, we had no idea if we would make it through that run let alone play to tens of thousands. The show ran continuously for nearly a decade. The show toured the upper Midwest performing to continually sold-out crowds and making it the longest-running
touring musical in
the region.
As Patsy would say, "It's a good life!"
"Always..." played to packed houses across the region for nine years and received rave reviews. The Sioux Falls Argus Leader called it "an uncanny, spine-tingling performance," and awarded the show as the Best Musical of the year, Kaija Bonde as Best Actress!
"When we came up with the idea to produce and tour "Always…" we thought it might last one year,
but never more
than that," said Kaija Bonde, the Sioux Falls native who has played Patsy Cline ever since the show opened.
"We simply had no idea of what we had or how people would respond. There were times, especially in the first 4 or 5 years, when we were on the road every weekend. It's been an amazing run."
When the final curtain fell, the production had been on the road for nearly 9 years for over 150 performances and has been seen by
over 250,000 patrons across South Dakota, Minnesota, Iowa, North Dakota and Nebraska.
Thoughts on a decade
More than anything else, "Always…" is about friendship. We cherish the moments you have given us with our dear friends: the diminished ninth chord only Boyd understands, the gas tank Kevin can't believe is empty again, the joke Nick tells we can't repeat, the car crash with which Jill almost killed Patsy one night, getting mooned from the third floor of the Franklin Hotel, the zillion late night hours in the car sharing our life stories, and all the crazy rest.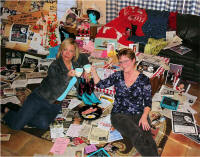 We are so grateful to our fans, the audience in the dark, with smiles on your faces and tears in your eyes. For you have known a buddy as dedicated as Louise. And you have lost a friend, a parent, or a soul mate like Patsy. You know the pain of loss and the memory of love. Us too… and it's nice to have shared it with you.

It's all the "Stuff"
20 boxes of Kleenex, 400 pairs of nylons, 40 cans of hairspray, 2000 bobby pins, 30 tubes of red lipstick, 20 sets of fake eye lashes, 500 nine-volt batteries, 2 storage units, 1 black wig, 12 bottles of Febreeze, 7 cowboy hats, 2 complete sound systems (the first one was stolen!), 95 roles of duct tape, 2 Hawaiian shirts, 800 cough drops, 3 two piece pink suits, 40,000 feet of extension cord, 27 miles of mic cable, and 1500 costume changes!
We've been everywhere, man
Aberdeen, Akron, Brandon, Brookings, Canton, Centerville, Cherokee, Clark, Custer, Dawson, DeSmet, Deadwood, Dell Rapids, Des Moines, Detroit Lakes, Fargo, Flandreau, Garretson, Gettysburg, Gregory, Hartington, Humboldt, Huron, Irene, Jamestown, Lake Preston, Lennox, Luverne, Madison, Mitchell, Parker, Pierre, Pipestone, Platte, Rapid City, Sheldon, Sioux City, Sioux Falls, Sisseton, Spearfish, Sturgis, Tabor, Tea, Tyndall, Waterloo, Watertown, Vermillion, Wessington Springs, Worthington, Yankton, just to name a few!
---
The Future:
The Comfort Theatre Company will continue to be a source of affordable touring musical performances in the north central United States. Our future goal, rather than produce a single "show," is to offer a "menu of musicals," bringing the American art of musical theatre to all of the region—rural and urban areas alike.
As the company and the audiences grow, we envision producing other standard heart-warming and toe-tapping musicals, fulfilling our goal to produce affordable, enjoyable musical theatre. Our experience is a testament to the importance of bringing high quality, enjoyable theatre to those who otherwise might not have the opportunity to experience it. We are eager to continue to share our dream and love of performing with your audience!
See you on the road!
"As an actor, I try to choose something that I believe in, that isn't a lie --
something that is life-affirming, that is morally worthwhile, that is not mind-rotting or spiritually diminishing ... This is how I contribute."

--Kevin Kline