The Story of Pumpboys and Dinettes
CONCEIVED AND WRITTEN BY:
John Foley Mark Hardwick
Debra Monk Cass Morgan
John Schimel Jim Wann
WINTER 1980
Two guys named Mark Hardwick and Jim Wann are playing 5 nights a week in the Cattleman Restaurant in New York. Mark plays the piano, Jim plays the guitar. To break the drag of playing the same show 5 nights a week, Mark starts to wear funny outfits. One of his favorite outfits is his gas station uniform. He is convinced it is the 'coolest outfit in the world'. Soon after, Jim joins Mark in his 'costume escapades'. When people ask them what it is all about, they say they are gas station attendants (Pump Boys) during the day and musicians during the night. Soon they are called...... the Pump Boys.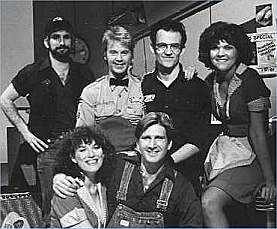 At this same moment, Cass Morgan, wife of 'Pump Boy' Jim, is trying to put together a cabaret act with Debra Monk, They are acting as waitresses in a diner, calling themselves the Cupp Sisters. Waitresses in a diner are called..... Dinettes.
Once in a while, just for fun, the Dinettes join the Pump Boys at their performances in the Cattleman Restaurant, thus 'Pump Boys and Dinettes' is established.
Jim and Mark start to write songs about 'Pump Boys and Dinettes' and are soon accompanied by old friends John Foley and John Schimmel. John Foley and Jim have known each other since they were classmates at school in Frog Level near highway 57, North Carolina. Together they create what is to become a very successful show all over the world.
The first performance of 'Pump Boys and Dinettes' is given in the summer of 1981 in New York. The Chelsea West Side Arts Theatre has the honor of the very first show. Only a few months later, they have to move to a bigger and more suitable theatre due to its enormous success. It is October 13, 1981 that the Colonnades Theatre in Greenwich Village has its first 'Pump Boys' show. The successful story continues soon after the opening night at the Colonnades Theatre -- it is Broadway calling. In February 1982, 'Pump Boys and Dinettes' moves to the Princess Theatre on 48th Street for its Broadway premiere; and this same year it is nominated for a Tony award for Best Musical - the highest honor on Broadway. 'Pump Boys and Dinettes' is a giant success.
WINTER 1988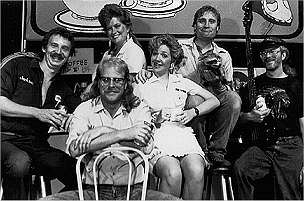 The South Dakota production "Pump Boys..." went in to rehearsal and opened in May of 1989. The show was directed by Ron Ziegler and the cast included Kaija and Brian Bonde, Robert Joyce, Roger Willey, Terry Ross and Tammy Roberts. The show was a shining success! It was revived twice and then went on to a five year successful touring run, with Susan Schafer Winklepleck replacing Roberts in the Prudie role. The show is still noted as one of the most durable and longest running shows in the region.