This story reprinted from
Country Weekly magazine
Always… Patsy Cline's Devoted Fan:
Meet the woman behind the hit play
By Rick Taylor
A chance encounter one evening 35 years ago between country legend Patsy Cline and a devoted fan blossomed into a close friendship that thrived until Cline's death in 1963.
The accidental meeting and the beautiful relationship that followed is the true story behind the play Always... Patsy Cline which has toured the country to rave reviews and packed Houses.
The hit two-woman play is based on Patsy's friendship with Louise Seger, who remains a devoted Patsy fan to this day. The play has been one of Nashville's top attractions for the past two years, drawing nearly a quarter of a million fans to the Ryman Auditorium.
Contacted by COUNTRY WEEKLY at her home in Peel, Ark., Louise recalled her fondest memories of Patsy, whose Greatest Hits album continues to top the charts after 4 1/2 years.
"The first time I heard Patsy was back in 1957 on the Arthur Godfrey Show and I thought, 'Good Lord, that's how I'd like to sing,' said Ms. Seger, now 63. However, it was four years and a divorce before Louise heard Patsy again and began hounding the local disc jockey to play her songs. It wasn't long before the DJ informed Louise that Patsy was performing in town that weekend.
"We arrived so early we were the only people there," Louise explains. "I saw a woman walk in and sit down at a table. I knew it was Patsy. I decided to get real brave and introduce myself. She turned to me with that open smile and we just clicked.
"The person inside me recognized the person who lived inside her. It was truly eerie."
Patsy joined Louise and her friends and after the show accepted an invitation to Louise's home for a late-night breakfast. "It was like I was living in a dream. There was Patsy Cline in my kitchen helping me fix bacon and eggs. She took her shoes off and wore an apron I gave her.
"She told me about her life, her hopes, her dreams. We discussed loves lost, loves found, loves yet to be.
"We talked about her troubled marriage and the pain she endured being away from her children. It was just two people baring their souls.
"We both sang and harmonized old Gospel songs and hillbilly tunes. We sat there and smoked and sang until 4:00 in the morning."
Louise rushed Patsy to the airport, expecting never to hear from her again. But within two weeks, Louise received her first in what was to be many letters and phone calls they would exchange.
"I often would receive calls at 1:00 in the morning. She'd be singing in some town wanting a friend to talk to."
They remained close even during difficult times, such as Patsy's frightening car accident that occurred months after they met.
"I was driving to work when I heard about it on the radio," Louise said. "The woman in the other car had died. Patsy suffered severe facial cuts, a broken pelvis and & broken leg. I sent her letters every day. She had a long, long recuperation."
In 1988 Louise was surprised by a phone call from a friend who told her, "I just saw you onstage." Louise replied, "What have you been drinking?" Louise soon learned the biography that featured her interview had been adapted and produced as a musical.
Louise, an elegant and witty blonde, was pleased but dismayed with her character's portrayal as the play's comic relief.
"I've never had red hair, certainly not in a beehive. I don't wear tacky clothes or have that accent. When my daughter saw it in Nashville, she just broke down and cried. She said, 'You've never been that way in your life. I don't want you to be remembered that way.'"
However, Louise treasures the memory of the last time she saw Patsy. "It was after a performance in Houston. I told her I was getting married and moving to Brazil. She said, 'Louise, you've got to be crazy.' I said, 'Yeah, you might be right.'"
Louise packed up her two kids and traveled to an isolated area near the Amazon River in Brazil. Things didn't work out with her intended, but an adventurous Louise decided to stay awhile and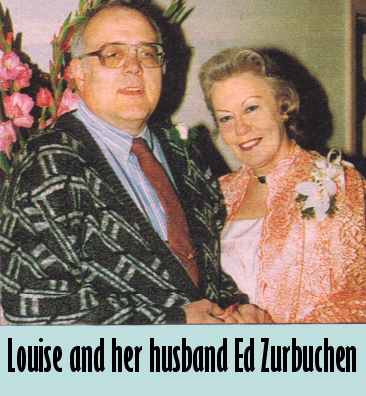 enrolled her kids in a missionary school.
Months later she recalled: "I was singing one of Patsy's songs at a bar one night when this man asked whose song I was singing. I said Patsy Cline. He said, 'Isn't that the gal who just died in the plane crash?' He insisted he'd read it in Life magazine.
"I got the magazine and sat down and slowly turned the pages."
"Sure enough, there was a two-page spread about the crash with a picture of the site. It was like a physical blow to my gut. I couldn't believe it. A part of my life had ended and I made plans that day to return home."
Through the ups and downs of Louise's life; which included three marriages and the tragic death of her son in 1979, Louise never forgot the special relationship she shared with Patsy Cline.
"The last glimpse I have of Patsy in my mind was after the Houston show. She held up a bottle of bourbon, winked and said, 'I'll see you, hoss.' It was a favorite expression of hers."
---
We are sad to announce that Louise Seger
Zurbuchen
has passed away. Though we never met her, we feel like we knew her and we send our condolences to her family. The following was published in the Houston Chronicle on November 7, 2004:
---
LOUISE SEGER ZURBUCHEN (NEE EVERETT) passed away October 28,2004 at her home on Lake Conroe , in Willis, TX. She is survived by her husband Ed Zurbuchen, daughter Donna Walter of Marble Falls, her step-granddaughters, Erin Curry and Megan Shook both of Austin, granddaughter Stacy and her husband Brett Mangold and great-granddaughter Riley Louise Mangold of Austin.
Ms. Zurbuchen was pre-deceased by her son David Seger of Malibu, CA., her son-in-law David Walter of Marble Falls, and her children's father Rex Seger of Houston. Ms. Zurbuchen was born May 31, 1932 to Fred and Ruby Everett in Jackson, Mississippi. After her father's death in 1941, her mother married Dick Alexander, a popular Gulf Coast musician and band leader, who fostered in her a life long love of music. In 1949, at age 17, Ms. Zurbuchen was voted Miss Biloxi.
As part of the prize, she toured with the Louisiana Hayride where she became friends with country star Little Jimmy Dickens. Louise moved to Houston after graduation from Hinds Junior College in Raymond, Mississippi. Her first marriage was to Rex Seger of Houston. Among the companies Ms. Zurbuchen worked for were Mandrell Industries, Petty-Ray Geophysical, and Aramco. At times, she was involved in dance, singing, modeling and as a nightclub owner in the Houston area.
An escapade as a young, divorced mother of two resulted in a friendship with legendary country and pop vocalist Patsy Cline, with whom she maintained a lengthy correspondence and series of phone calls. This aspect of Ms. Zurbuchen's life was documented in the biographies Patsy Cline: An Intimate Biography and Honky Tonk Angel: The Intimate Story of Patsy Cline and became the basis of the international music revue Always, Patsy Cline, which premiered at Houston's Stages Repertory and went on to become a show business phenomenon. As a result, Ms. Zurbuchen gained a legion of fans from around the world.
She will be missed by her devoted family and friends
.

---
We understand Louise was in bad health the last few years due to emphysema. Below you will find the letter that her husband, Ed Zurbuchen, sent out.
---
"Hello everyone,

This e-mail is to all of Louise's, and my friends on the internet. I'm sorry to tell you that Louise passed away.

I know a lot of you will be what-the-helling that you haven't heard any thing previously, but this is the way Louise wanted to do it. She asked me to tell absolutely no-one about her condition until after she was gone. She wanted, and had, no visitors or phone calls; no one except myself and the hospice nurses to see her.

She slipped away very quietly and peacefully at 9 PM Thursday, 10/28/04. According to her wishes she was sent for direct cremation and there will be no services. We have no memorial planned and we haven't yet sent out an obituary.

You can drop me an e-mail if you like. I'd be glad to hear from you.
Ed Z."
Be sure and check out Always... Patsy Cline on Facebook