westerville, westreville, kaija bonde, brian bonde, boyd bristow, gene mcgowan, east of westreville, east of westerville, of thee I swing, comfort theatre, comfort theater, theater, theatre, musical, play, bluegrass, bonde, poker alice band, sioux falls, south dakota, sd, country music, folk, al slaathaug, patsy cline, kaija, brian bonde, jill johnson, pillar-johnson, comfort theatre, comfort theater, theater, theatre, musical, play, bonde, poker alice band, sioux falls, south dakota, sd, country music, Louise Seger, Boyd Bristow, Kaya, kia, bondy, bondie, bondee, Crazy, Walkin' After Midnight, O'Gorman, Barn Theater, Brandon Valley, Larry Rohrer, Nick Schwebach, Steve Peterson, Owen DeJong, Gail Tallaksen, Denny Jensen, Kevin Brick, Fred Evans, Dave Wood

Thanks for stopping by The Comfort Theatre Company...

We're glad you found us!
It has been said that live performances should "change the air around you." It should touch a spot inside of you, reminding you of a similar place and time in your life and somehow leave you changed.
In 1997 we only had a dream of a theatre company--a new and exciting concept grown from a lifetime of experience as artists.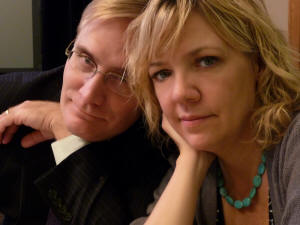 We had been involved in successful ventures for over 20 years, but the South Dakota Arts Council gave us the backing to be an independent, multi-faceted company. We produced "Always Patsy Cline", the immensely popular musical play that ran for nine years and several revivals.
Today we offer a "menu" of musical events: "East of Westreville" is a collection of bluegrass, blues, gospel & country music featuring Boyd Bristow, Kaija & Bonde and Al Slaathaug--now also available with fiddler Kenny Putnam. "Of Thee I Swing" is an original review that recreates a 1940's Broadway cabaret show, performed by Kaija Bonde & Gene McGowan's Jazz Trio.
We hope that you enjoy what you see here and that it will inspire you to come see The Comfort Theatre onstage.
Click here to read comments from visitors to our website. There is also form where you can leave a message, too.
Here we are hundreds of shows and tens of thousands of patrons after opening night a
nd we feel like we're just getting started.
Who knows… you may end up changed too!
See you at the show!
---
From the people of "Acoustic Christmas" and "Always...Patsy Cline"...
East of Westreville is a
musical concert is based on folk, bluegrass, gospel, country, and roots music of rural America. Kaija Bonde is on
vocals, with Boyd
Bristow and Brian Bonde on guitars and vocals. Al Slaathaug is on bass.
Kaija and Brian were interviewed by Matt Weesner of South Dakota Public Radio. Click here to listen to an edited version of the show.
The East of Westreville CD "Waitin" is available! We think you'll love it!
Be sure and check out East Of Westreville on Facebook

---
News!
We were so honored to provide the music for Senator McGovern's prayer service. Vice President Joe Biden was present and shared remembrances. George was one of our greatest fans and a hero to all of us. Click here to view the prayer service on C-SPAN.
If you would like to bring one of our acts to your community or event, please contact us by clicking here.
always... patsy cline, always patsy cline, patsy cline, patsy, east of westreville, east of westerville, of thee I swing, comfort theatre, comfort theater, theater, theatre, musical, play, bluegrass, bonde, brian bonde, kaija bonde, jill pillar, jill johnson, poker alice band, sioux falls, south dakota, sd, country music, boyd bristow, kevin brick, folk, al slaathaug, gene mcgowan